THE LAST DROP
'CENTENARIO' VERY OLD COLHEITA TAWNY PORT 1870 & 1970 DUO
c. 1870/1970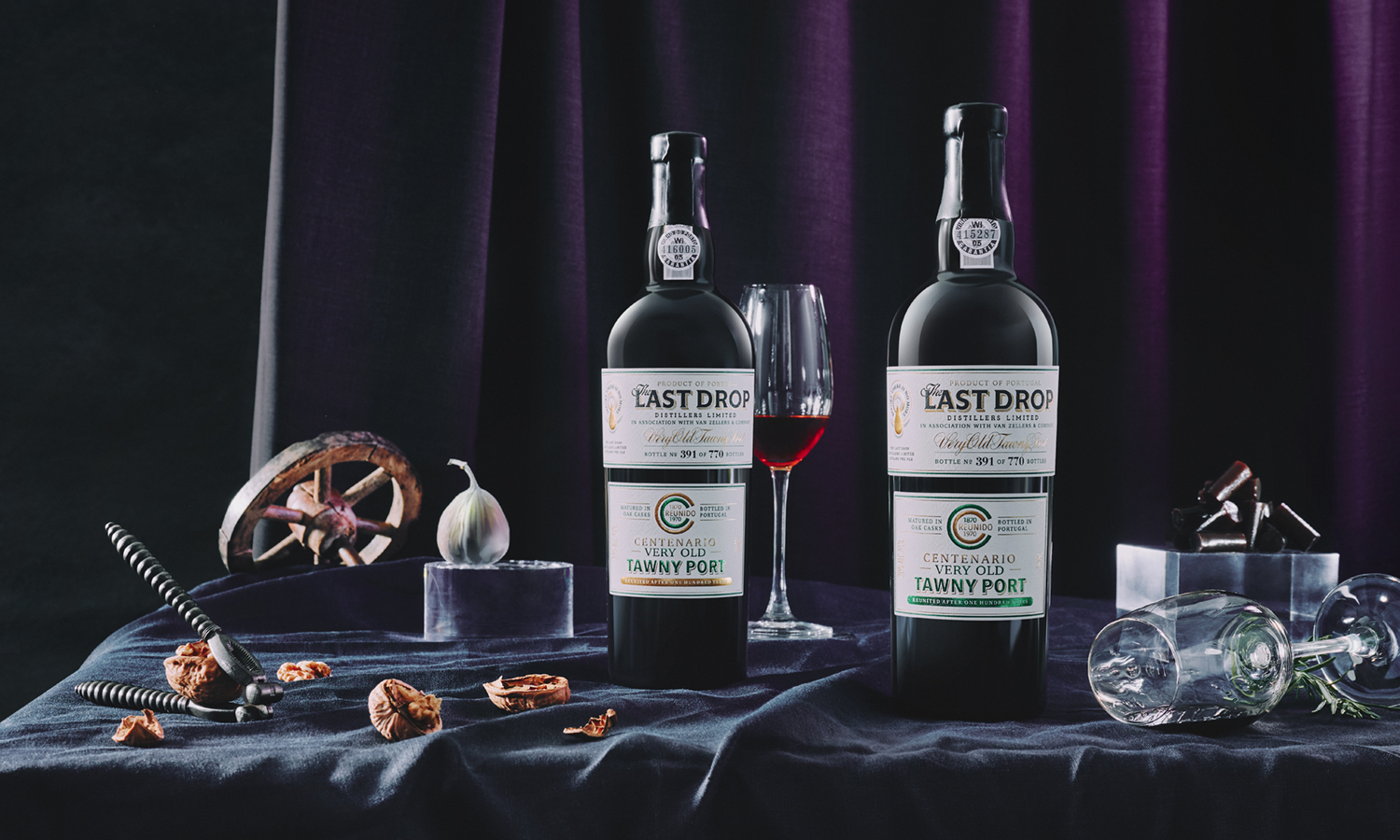 "We unearthed something unique and wonderful"
Since 2008, we have brought some of the world's finest spirits to connoisseurs and collectors. In the same spirit of discovery, Ben Howkins – a renowned authority on Port –long maintained that a truly fine old Tawny Port could command a place alongside such esteemed spirits. In 2016 we therefore journeyed to one of the oldest wine regions in the world: the Douro Valley in northern Portugal.
Release Size: 770 Duo sets
ABV: 20.0%
RRP: £4,000 (inc VAT)

For centuries, generations of farmers in the Douro Valley have kept back stocks of their best wines. These ancient oak casks were seldom moved. A few litres might be enjoyed on special occasions: prized aged Tawny Ports were viewed as 'the family silver'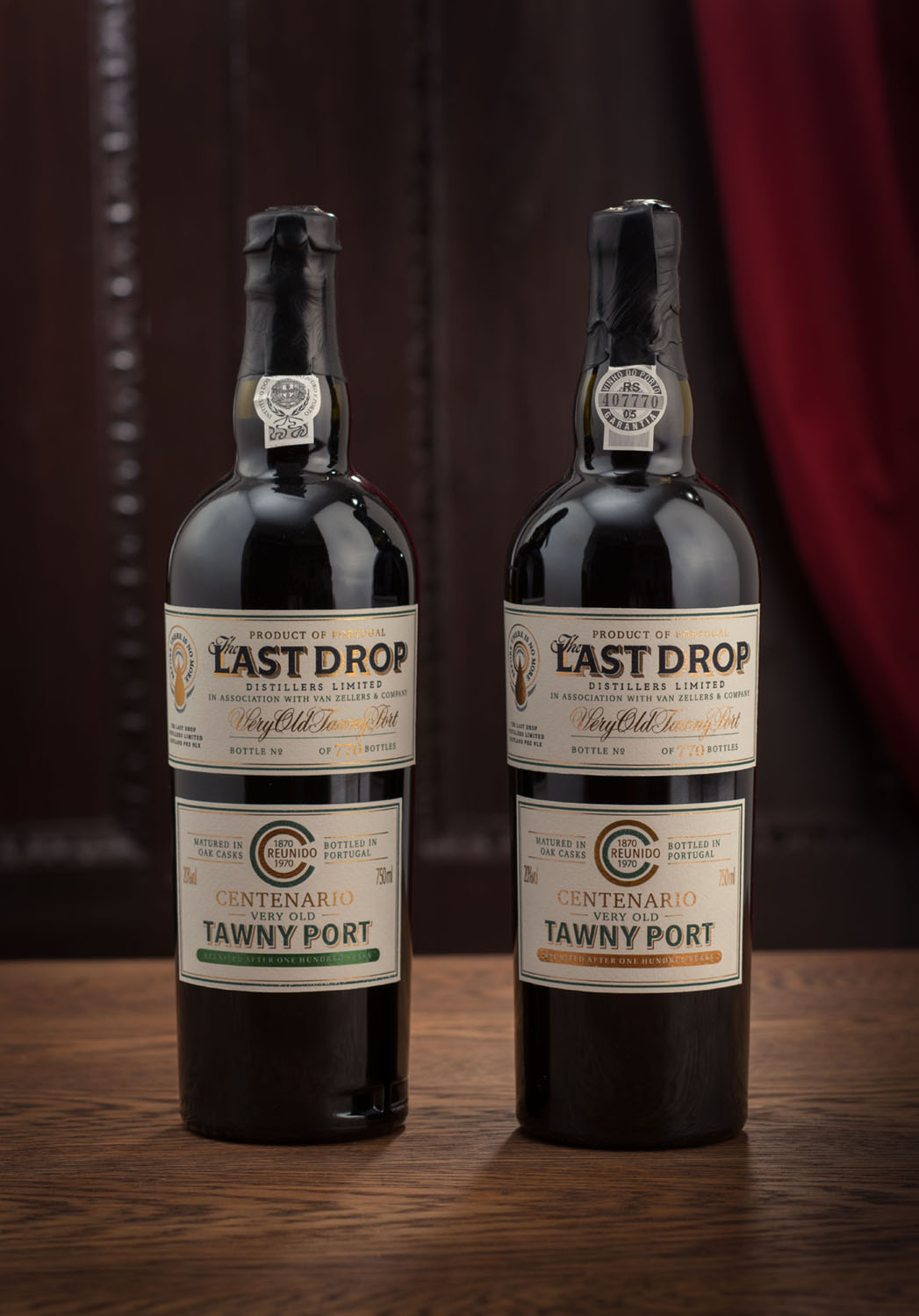 One such family were the van Zellers. Arriving in Portugal in the middle of the 17th century, they remain part of the Douro landscape to this day. With the help of Cristiano van Zeller, we unearthed something unique and wonderful: The Last Drop "Centenario" duo of Tawny Ports.
Our 11th release comprises two very old Tawny Ports, from 1870 and 1970. Whilst the older was made from grapes on pre-Phyllorexa vines, the younger came from vines grafted onto American root stock after the louse wiped out huge swathes of Europe's vineyards. As such, the two extraordinary bottles offer a rare opportunity to sample two dramatically different chapters in the history of Port.
1870 Old Colheita Tawny Port – Neal Martin's tasting notes It has an arresting bouquet with scents of black plum, rosehip syrup, Manuka honey, fig and grilled walnut… Beautifully balanced, fresh and slightly viscous in texture, this is a complex Tawny Port whose age has not diminished just how delicious it tastes. It just goes out to offer gorgeous mulberry, clove, eau de vie and Chinese five-spice notes throughout its harmonious and poised finish. This is just a sublime Tawny of class and pedigree and it comes highly recommended. 97 Points.
Jancis Robinson's tasting notes Treacle toffee and salted-butter nose with the most delightfully rich, sweet, dried orange peel palate. Great stuff! Very gentle on the palate and remarkably clean, considering its age, with no excesses and just the right amount of refreshing acidity for the thick, lightly raised sweetness. Bravissimo! Very long. 19/20
1970 Old Colheita Tawny Port – Neal Martin's tasting notes Clove, toffee, wild fennel and smoke aromas. The palate is sweet and crisp on the entry with a tang of Seville orange marmalade and quince. There is great tension here thanks to the fine seam of acidity with a fresh, almost "zippy" finish that belies its age. A fine Colheita Tawny. 93 Points.
Jancis Robinson's tasting notes Pale gingery tawny with a yellow-green rim – much paler than the 1870. Rich butteriness comes out from underneath on the nose. Then, on the palate, very satisfying richness overlaid with citrus peel and some refreshing acidity on the finish. It's certainly a feat for a tawny port to give so much pleasure at nearly 50 years old. Much richer and more concentrated than the average tawny sold as a 30-year old. Well chosen! 17.5/20.