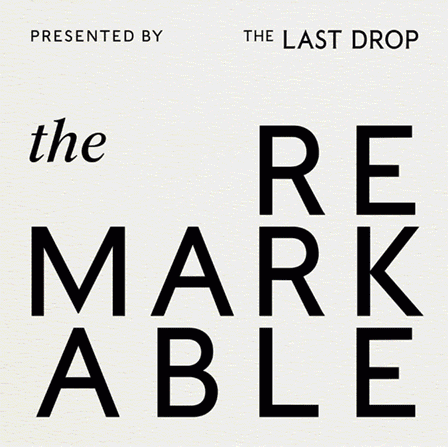 The Remarkable Podcast Series
Hello. It's with the greatest pleasure that we are launching The Last Drop's podcast: The Remarkable. As Curators of the World's Most Remarkable Spirits, we come across some fascinating people on our travels, in our conversations and among our friends and customers, with extraordinary and compelling stories to tell: of remarkable lives lived to the full; inspiring stories, experiences and ideas that we wanted to share, alongside our own discoveries.
And so, the idea of The Remarkable podcast was born, and we are delighted to introduce our first three guests. Each episode is a conversation between me, Rebecca Jago, the managing director of The Last Drop, and a different guest: someone who we feel has a remarkable story to tell – of human endurance, of exquisite artistry, of creating sublime moments.
We look forward to bringing you more Remarkable conversations with remarkable people, and to hearing what you think – and any suggestions you may have for future guests.
Rebecca Jago
---
Episode 8. Beanie Espey: Growing Up and Giving Back
Beanie is an accomplished luxury brand builder with a passion for whisky – and sherry!
Episode 7. Drew Mayville: The secrets of the blend
There is a particular kind of magic at play behind the creation of the world's finest spirits and it takes a rare and experienced magician to work it. Drew Mayville is one such whiskey mastermind
Episode 6. Tom Marchant: Reshaping Luxury Travel
Travel, done the right way, is a world away from tourism. Enter Black Tomato – translating clients' passions into exploratory and truly moving experiences.
Episode 5. Ross Lovegrove: Reflections on Creation
The acclaimed biological designer discusses passion, purpose and portals to a new fantastic future – flying cars may also feature.
Episode 4. Max Girardo: Fuelling Dreams
From transports of delight to the ultimate in dream machines, the world of classic and collectable cars deals in a single currency: passion.
Episode 3. Colin Scott: The Magic of Blending
A single sip can be transportive – what does it take to make a world-renowned whisky again, and again and again?
Episode 2. Alexandra Llewellyn: It's Never Just a Game
Some games – such as backgammon - transcend language, age and culture. Some boards are so much more than they first appear.
Episode 1. Ben Saunders: Silence and Endurance
By exploring the world's most inaccessible, unforgiving places, alone, we begin to understand the boundlessness of human potential.