Today, the company is run by Tom's daughter, Rebecca Jago. She estimates that the company rejects around 90 -95% of what they taste, and all of their releases, including whiskies, Cognac, Port and rum, have been aged for at least 40 years.
Under her leadership, the company is evolving from bottling "discovered" spirits to blending and creating new expressions. Recently, I sat down with Rebecca to speak about the business of searching for and bottling rare, ultra-aged spirits.
JM: The term spirit hunter sounds like a cross between Ghost Busters and Indiana Jones. What exactly does a spirit hunter do? What kind of background/training do you need to be a spirit hunter?
RJ: We've often been referred to as the Indiana Joneses of the spirits industry, but I haven't heard the Ghostbusters analogy before: I love it, although that's the wrong type of spirits!
It's quite difficult to be prescriptive about the type of skills required, as curating remarkable aged spirits can be a long and gradual process.
I suppose the first stage is being able to find liquids that might fit our criteria, in terms of possessing a truly remarkable blend of character, age and vitality.
I was fortunate enough to join The Last Drop (TLD) because of my father, Tom Jago, and his co-founder James Espey. During their 40 years in the drinks business (an extremely convivial industry!) they naturally built up an international network of great friends and contacts who are extremely supportive of TLD.
The next talent lies in identifying and collecting those liquids with genuine potential, which is not always straightforward, given the long maturation/ageing times of our releases: often we're talking one cask out of hundreds sampled.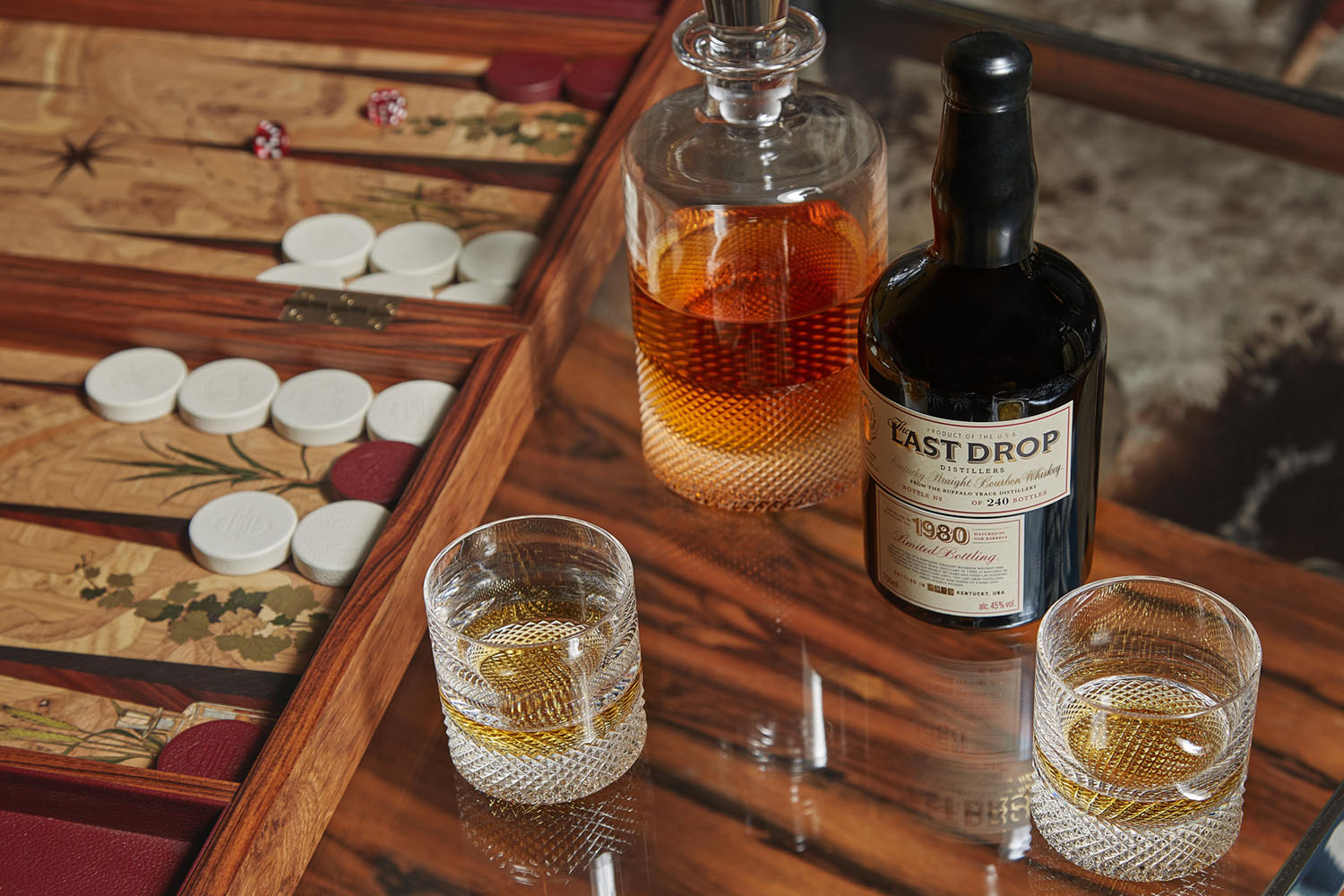 JM: You've recently added an advisory board to help you source and evaluate rare spirits. Who are they and how do they function?
RJ: My father and James had developed considerable expertise in this area over the years, allowing them to trust their own tastes and instincts. Now that the 'founding fathers' have moved on, and we move into new categories such as Bourbon and Rum, we continue to work with a network of top experts.
TLD recently founded The Assembly, a carefully selected panel of experts drawn from across the spirits industry, each a renowned leader in their own category. The founding members of The Assembly include luminaries from across the worlds of Scotch, American, Irish and Indian whiskies, as well as Cognac and Rum:
Colin Scott, Master Blender for The Last Drop Distillers of London
Drew Mayville, Master Blender & Director of Quality, Sazerac, USA
Richard Seale, Master Distiller & Blender, Foursquare Rum, Barbados
Louise McGuane, Owner & Bonder, JJ Corry Irish Whiskey, Ireland
Michael d'Souza, Master Distiller & Blender, Paul John Whisky, India
Denis Lahouratate, Cellar Master, Domaine de Sazerac Cognac, France
JM: How do you get your leads? Are you just following up on offers that you receive from companies with aged stock or can you actually go and "hunt" for these rare spirits?
RJ: Our leads can come from many different directions. James and Tom were incredibly well-connected in the Scotch and Cognac communities, and these personal contacts remain very dear to us.
We are also fortunate that the values of TLD seem to strike a chord with people, so we do find we receive approaches from around the world that are happy to entrust us with their crown jewels.
Sometimes, the hunt is for what lies within the barrel, rather than the barrel itself being hidden: some of our releases have come from casks which were fully "on-the-record" but where the liquid in one or two particular barrels displayed such remarkable characteristics that they simply had to be given their moment in the spotlight.
One of our favourite stories is the discovery of the single barrel of cognac from a distillery owned by the same family for many generations: distilled in 1925 and then hidden from the approaching Germans before WW2, behind a wall in a barn. There it lay, forgotten until the current owner (grandson of the distiller back in 1925) undertook some renovation work on the barn and found the barrel, undisturbed for nearly 80 years. We were fortunate enough to taste this extraordinary cognac very soon after it was found and knew we'd come across one of those "once in a lifetime" moments that we love sharing: both the stories and the spirits.
JM: Ultra-aged whiskies have always been scarce and seem to be growing even scarcer as demand for them continues to skyrocket. Are you at risk that you will run out of the types of spirits you are searching for?
RJ: There's no doubt that the increasing interest in older spirits across all categories is driving market demand at the moment – especially for big-name Single Malts.
However, as we are ploughing a slightly different furrow and, additionally, are interested in small volume rarities (for example, the 21 bottles of a lovely remnant of a Grande Champagne Cognac distilled in 1959 and all but forgotten during the intervening years), we believe there are plenty of remarkable spirits still out there for discovery.
We're fortunate to have been curating a collection of aged and younger casks across several categories for over a decade now, so we're excited about our current library of stock.
Additionally, the arrival of our Master Blender, Colin Scott and the creation of The Assembly brings a wealth of expertise in spotting and nurturing inventory potential, whether that be by steering the maturation process or masterminding new blends to bring the best out of different but complementary liquids.
Having said that, our quest is never over: we're always interested in hearing about new and exciting leads, so we'll continue to explore and taste our way across the wide world of spirits. After all, you never lose the thrill of the chase!
JM: You started with rare whiskies. Since then you've added rum, Cognac, bourbon and Port. Any other categories of wines and spirits that you're looking for?
RJ: We're looking for the Remarkable, so I'd say we use this as our compass rather than being constrained by category. Essentially, we're interested in any spirits which benefit from ageing – which explains our incredible pair of aged Tawny Ports from 1870 and 1970.
Our Releases to date include Scotch Whisky in all its forms (Blends, Single Malts and Single Grains), four wonderful Cognacs and some exceptional Bourbons.
We've been interested in Rum for several years but only found one we felt matched The Last Drop's philosophy in the last 18 months – hence our recent 1976 Jamaican Rum release: a truly astonishing spirit, full of depth, character and the classic Jamaican "funk", mellowed by 43 years in wood.
I certainly see us continuing to develop these existing categories, whilst exploring neighbouring territories such as whiskies/whiskeys from around the world, and aged spirits from further afield. Which obviously brings into play a whole raft of exciting possibilities…!
JM: You've announced plans to add your own production to your range of bottlings. What are you hoping to offer your customers and how will these bottlings fall into the overall line-up of expressions you offer?
RJ: Using our maturing inventory of barrels, we have seen the opportunity to use some of these casks to create new – but still very old – spirits. So, our next release will be Colin Scott's first Signature Blend: a 50-year-old Blended Scotch Whisky, blended by Colin Scott from a range of single malts and grains. While the creation of unique blends is a new venture, the spirits will still be old; it's just that we will have had more of a direct hand in it.
With the formation of The Assembly, we see opportunities for further unique collaborations with other members, creating unique blends in each of their categories to grace TLD. The bottom line is that everything TLD shares with its customers must be remarkable: whether we're releasing something from our collection untouched or whether we've had a hand in finishing it.
Our maturing library of stock permits us to follow closely this development curve of our casks. Introducing the blending expertise of The Assembly allows us to identify those liquids with the character and potential for further enhancement via blending and finishing. This is an incredibly exciting prospect: effectively, the belief is that opening up our library of world-class liquids to these world-class 'artists' will create some truly remarkable results.
JM: Thank you.
For the full article, please see Forbes Online.