A LONGSTANDING FRIENDSHIP. This is not the first time that Colin Scott and the families who founded The Last Drop have worked together. This longstanding friendship and rapport began in the 1990s when The Last Drop founders – James Espey and Tom Jago – worked with Colin at Chivas Brothers, particularly on the creation of Chivas 18-year-old: one of the proudest creations of all three men.
THE STORY. From the beginning, The Last Drop's philosophy has been to source rare casks, evaluate the spirit and then lay down only the finest casks that are both exceptional and suitable for long maturation. For centuries the Malt and Grain distilleries all over Scotland have been distilling their fine and unique spirits and laying them down in oak casks for a future date
From our library of maturing malt and grain whiskies, and aged blends, our Master Blender, Colin Scott has brought together a blend that speaks of the past and to the present.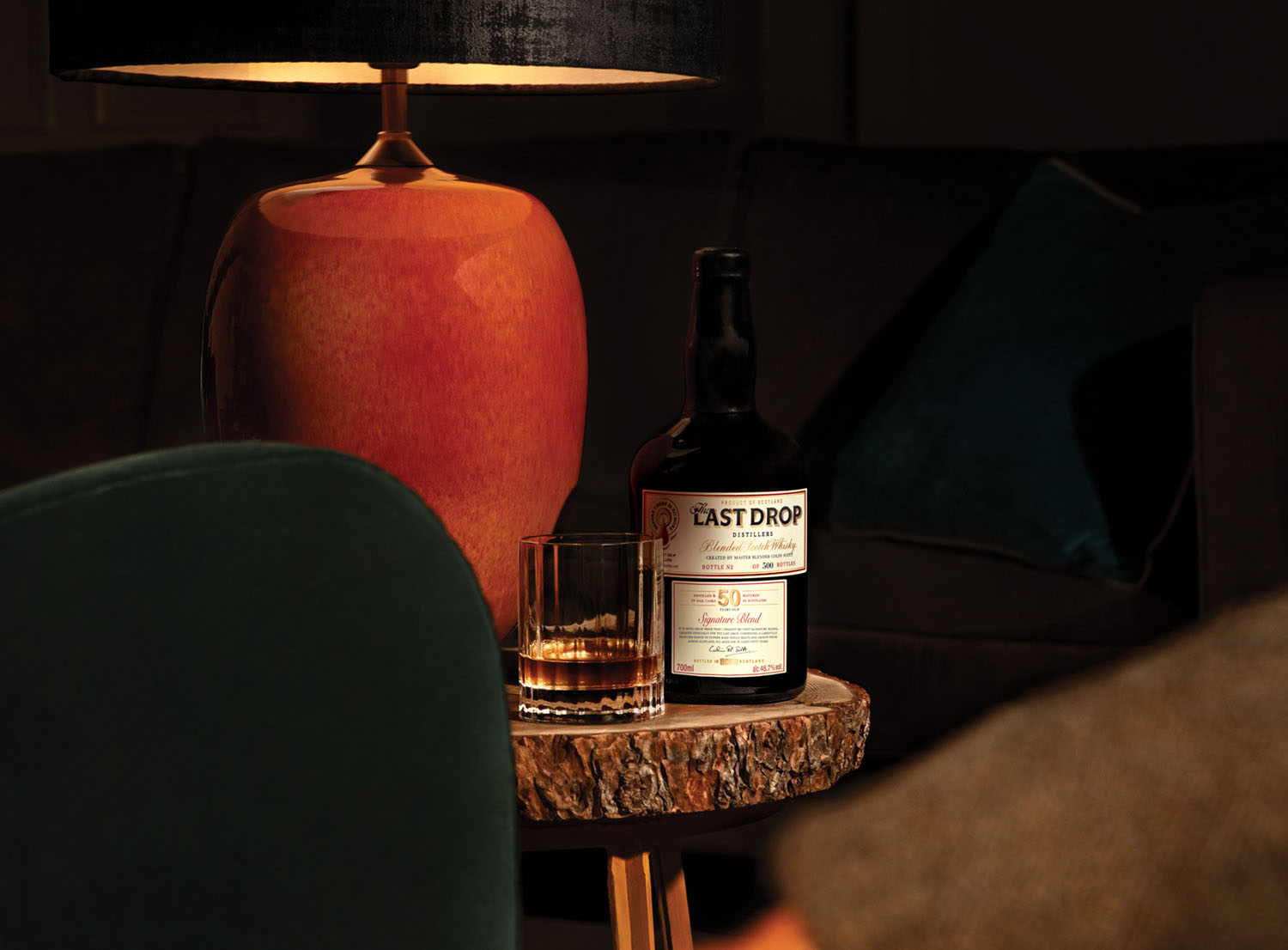 The journey for this sumptuous whisky started as new distillate of both single malts and grains, filled into casks over fifty years ago. After many years of quiet maturation, casks were then specially selected and blended together.
Finally, the final blend was placed into four American white oak casks, and secured. Only 500 bottles have been bottled for the Signature Blend to present memories of the whisky's journey over the last 50 years with smooth, rich flavours from all corners of Scotland.
"Colin Scott has brought together a blend that speaks of the past and to the present."
Colin JP Scott's Blend: TASTING NOTES
Rich, soft, smooth, full and fruity, dried apricots, apple, floral-scented notes, creamy sweet and spicy, nuttiness of almonds, slightly oaky with hints of liquorice. Long, lingering aftertaste.
Colour
Liquid amber and gold. A rich, warm colour reflecting the long slow maturation in both sherry and bourbon casks.
Nose
A soft peppery prickle that entices and tempts exploration. Deep and luxurious, dried fruits are tempered by floral notes, alongside vanilla and toast, there is also a hint of smoky peat from the islands.
Taste
Rich, soft, smooth, full and fruity: on the palate an explosion of dried apricots, apples and prunes. A rich, creamy texture coats the mouth, with sweet and spicy notes, the nuttiness of almonds, and subtle hints of liquorice.
Finish
Long and lingering rich fruits and oaky notes. The taste remains long after the last sip, leaving memories of an exceptional blend created by a master blender.
Limited release of 500 bottles.
To read an interview with Colin Scott on Whisky Advocate, click here